Obituaries
Rosa M. Garcia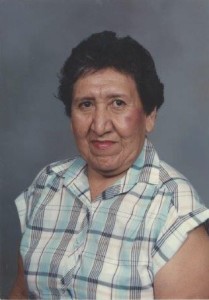 Rosa M. Garcia  03-01-1930   –  01-29-2016
Rosa M. Garcia,85 was born on March 01, 1930
to the late Crespin Martinez and Rafaela Villapando
in Waelder, Texas.
Preceding her in death were her parents and one son, Willie Garcia.
She is survived by two sons and two daughters-in-law; Ubaldo Garcia & wife Janie Garcia of Madisonville, Texas
Tommy Garcia & wife Eloise Garcia of Slaton, Texas; Two daughters and two
Sons-in-law; Margarita Morlan & husband Lee Morlan of College Station,
Texas; Rita Verde & husband Beto Verde; Seven grandchildren; and a host of other
Relatives and friends.
Please leave condolences and memories for Rosa at www.danielandsonfuneral.com
Betty Robinson
January 31st, 2016