Obituaries
Pearlie Mae Loughridge Johnson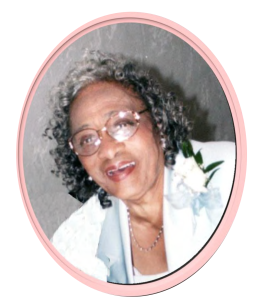 Pearlie Mae Loughridge Johnson was born in Benchley, Texas on January 21, 1931
to the late Sarmoneus Loughridge and Pearly Neal. Her mother passed three months
after she was born and she was raised by her Aunt Evelyn Nero, of Houston, Texas.
As a small child, she and Aunt Evelyn then moved to Bryan, Texas and she attended Bryan
Public schools where she graduated from E. A. Kemp High School in 1948. Pearlie met
John C. Johnson and he was the love of her heart. They were married in Holy matrimony
August,1950. To this union one son was born Elijah Carl Johnson, Sr.
Pearlie was a very caring, compassionate and loving mother to her only son "Blue". She
was such a proud mother from the day he was born. She loved her family.
Pearlie loved the Lord even more and was baptized at an early age. She was a faithful
member at Pleasant Grove Baptist Church, until her health failed. She served as the
General Mission President for many years. She loved her mission sisters and she loved her
pastor and first lady. She served on the culinary committee and many other committees.
She just loved serving the LORD……
Pearlie was one of the ladies of the community who helped formed and established the
Bravos Valley Garden Club. She really enjoyed giving her time to the garden club. She
worked tirelessly trying to make her community look beautiful.
Pearlie, retired from GTE after spending many years as a telephone operator, and she
retired a second time as a secretary with the Daniel & Son Funeral Home. Pearlie
enjoyed helping and comforting families during their times of bereavement.
Pearlie was preceded in death by her parents; her Aunt Evelyn Nero; her grandparents,
Mr. & Mrs. Jodie Neal; her husband, John C. Johnson, Sr; one son, Melvis Ray Johnson,
Sr and one brother, Sarmoneus Loughridge, Jr.
On the morning of September 18, 2017 at 8:32 am the Lord needed another angel, so he
said "come home my beautiful child" and she slipped away right into his arms.
Those left to forever cherish her love and memories are one son, Elijah Johnson, Sr. of Bryan,
Texas; a daughter-in-love, Alice Joyce Johnson, of Beaumont Texas; one daughter Betty
Shaw (John) of Houston Texas; four grandsons, Elijah Johnson, Jr, of Bryan, Texas,
John Shaw, Jr. (Lorenza) of Humble, Texas, Melvis Ray Johnson, Jr of Beaumont, Texas
and Terrell Wallace (Delicia) of Beaumont, Texas; Three granddaughters, Sandra Simon
(Gabriel, III) of Houston, Texas; Tracy Shaw Were of Houston, Texas and Shandra
Johnson, of Atascocita, Texas; Nine great-grandchildren, A'lise Johnson, Shawdae
Banks, Gabriel Simon, IV, Jeremiah Simon, Xavier Simon, Brandon Were, Stephan
Shaw, Joshua Shaw, Kyah Shaw; and host of other relatives and friends.
Daniel & Son Funeral Home
September 22nd, 2017