Obituaries
Elizabeth Hunter Sterling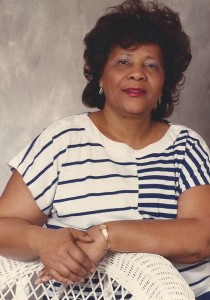 We celebrate the wonderful life and the beautiful home going for Elizabeth Hunter Sterling- affectionately known as " Nunnie". Elizabeth was born on August 24, 1940 in Bryan,Texas to the proud parents of Mr. Peter and Lula Grace Hunter. She was preceded in death by her parents Peter Hunter Sr. and Lula Grace Brisby- Hunter, sister; Charlie Mae Lott and brothers; Frank James Hunter and Greg Jerkins Sr.
Mrs. Sterling was united in holy matrimony to James Sterling on October 29, 1960. This union was blessed with two children.After 56 years of marriage, Mr. Sterling has witnessed the home going of his loving wife.
Mrs. Sterling lived her life by Faith. Her love for God was instilled in her family. She was a faithful member of Greater Salem Missionary Baptist Church where she served as a member of the hospitality committee. She was very instrumental in helping organize the church when it was moved from the Brazos Bottom. She was willing to serve the church in any capacity.
In addition to her love of God, she loved her family unconditionally. She looked forward to family gatherings, hosting her annual Father's Day recognition cook-out serving as the chairperson for the Brisby-Hunter family reunions.
Mrs. Sterling loved to decorate and cook. Her famous sweet potato souffle" and pistachio salad will be missed.
Above all, Elizabeth was a lady with a big heart. She saw good in everyone and was kind in thoughts and action toward all. Mrs. Sterling was a strong woman of the greatest character. She not only loved her children, but all of her nieces and nephews and anyone that crossed her path. She was a role model for her family and friends. She will truly be missed by all who experienced being in her presence.
Mrs. Sterling was employed with the Bryan Independent School District for many years. She later transitioned to the Bryan Daily Eagle newspaper. She retired after 30 years of dedicated services. Mrs. Elizabeth is survived by her loving husband James Sterling of Bryan, Texas; son Cleveland Sterling of Sugarland, Texas; daughter Rita Sterling of Bryan, Texas; grandson Joshua Benford and grand-daughter Kiara Benford both of Bryan, Texas; five sisters: Alice Wilbert ( Joe), Katherine Langston, Bobbie Jones; all of Bryan, Texas. Eliza Wilson ( Herman ) of Seattle Washington and Linda Robertson (Jimmie) of Sugarland, Texas; five brothers: Peter Hunter (Stelle), Bennie Joe Hunter (Stella), Jeffery Hunter ( Anna), Freddie Hunter ( Alma) all of Bryan, Texas and Ernest Hunter Sr.( Brenda) of Austin, Texas. A host of nieces, nephews, relatives, and friends
Betty Robinson
November 24th, 2016