Obituaries
Tommie Lee Johnson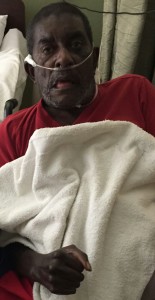 Tommie Lee Johnson ( TC) was welcomed into this world on April 1,1948 to the parents of Dan and Mary Ann Johnson. He was the seventh of eight children in this family. As a child, he had many fun filled days surrounded by close circle of family and friends.
He accepted Christ at a young age and attended the Church of the Living God.
He received his education in the Bryan public school system. Tommie's greatest attribute was his optimistic personality, loving spirit and compassion for others.
He loved to play dominoes, loved sports and had a great love for the Dallas cowboys.
He was employed at Texas A&M university and later at the Wolf Creek car wash.
Tommie was escorted to the gates of heaven, on April 18, 2017, by the angels of God, Dan and Mary Ann Johnson; brothers, Jesse and Willie and sisters, Annie, Edna, and Lucy.
His memory will be cherished by his loving sisters, Ona Mae Sims and Queen Townsend ( Luther) and tons of nieces, nephews and friends.
Now resting with the Lord, he will be greatly missed and forever loved
Visitation will be Friday April 21,from 10am to 7Pm at Daniel and Son Funeral Home 401 west 18th Bryan, Tx 77803
Funeral services will be Sat April 22 at 3pm at Pleasant Grove B. C. 310 west Martin Luther King st  Bryan, Tx 77803 Rev. Craig Anderson officiating, internment will follow immediately after service at Oakwood Cemetery Bryan, Tx
Betty Robinson
April 21st, 2017