Obituaries
Nathaniel Allen Jr.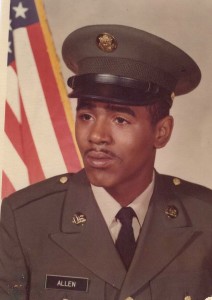 Nathaniel "Bubba" Allen Jr., was welcomed into the world on December 8, 1954 to the parents of Nathaniel Allen Sr. and Melvin Jean Allen. To this union six children were born, of which Nathaniel was the second addition. As a child he had many fun-filled days on the legendary West 20th street, surrounded by a close circle of family and friends. He accepted Christ at a young age where he attended Galilee Missionary Baptist Church. Nathaniel attended Bryan Public schools, where he became acquainted with many lifetime friends. Although he had great academic achievements, he mostly enjoyed participation in exercising his talent in sporting events, such as football, basketball and track. He was a three-time letterman at Bryan High School. Nathaniel graduated December 1973 and shortly thereafter, joined the United States Army to proudly serve his country. He spent most of his enlisted time in Korea with his last active service of duty at Fort Bliss, where he was honorable discharged. Nathaniel later attended Texas Southern University where he majored in Computer Science. He pursued a career in computer programming while living in Houston, Bryan, and Austin, Texas.
Nathaniel's greatest attributes was his optimistic personality, nurturing spirit, love and compassion for others. He truly had a heart of gold, demonstrating his eagerness to place his needs behind to accommodate others. Nathaniel enjoyed the great outdoors, watching sports, cooking and spending quality time with his family. He found fulfillment in catering and taking on major task. Always ready to lend a hand, whether it meant putting on an apron or picking up a hammer and nails. He was ready to give you his all in order to make your day. Nathaniel stayed active and busy, most days you could find him riding his lawn mower, doing carpentry and working in the country.
Nathaniel was escorted to the gates of heaven by the angels of God, Nathaniel Allen Sr. and Melvin Jean Allen on Sunday, June 12, 2016. His memory will be cherished by his loving wife, Lola Mae Allen, two sons; Nathaniel Allen III (Jenny) and Julian David Allen of College Station Texas; four sons through marriage, Jonathan Caldwell of College Station, Texas, Michael Madkins (Tammie) of Madison, Alabama, Phillip Madkins of Bryan ,Texas, and Steven Madkins of San Antonio, Texas; two brothers, Christopher Allen Sr. (Shirley), Darryl Allen (Osborne) of Bryan, Texas; three sisters, Pamela Allen Harnsberry of Austin, Texas, Constance Allen Henry and Latisha Allen of Bryan Texas. Nathaniel leaves behind twelve grandchildren, four aunts, and a host of nieces, nephews, cousins, and a special nephew, Kingston Allen and a dear friend, Milton "Sunny" Gooden.
Nathaniel "BUBBA" Allen was a true soldier to the end, not just to his country but also to family and friends. Now resting with the lord, he will be GREATLY missed and forever loved.
Betty Robinson
June 16th, 2016