Obituaries
Mrs. Mattie Lee Phillips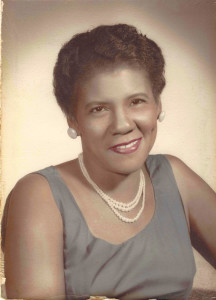 Mrs. Mattie Lee Phillips age 102, and longtime Bryan resident, passed away Tuesday, August 24 at her home after a debilitating illness. The body is entrusted to Daniel & Son Funeral Home where visitation will be held at the funeral home from 10 a.m. to 7 p.m. Friday, August 28, 2015. A Celebration of Life will be held at Pleasant Grove Missionary Baptist Church in Bryan on Saturday, August 29 at 1:00 p.m. with Rev. Raye Bootye officiating. Rev. Craig Anderson, pastor will eulogize. The body will lie in state at the funeral home Saturday from 8:00 a.m. to 11:30 a.m. and at the church from 12:00 to 1:00 until the time of the service. Burial will be in Oakwood Cemetery.
Mrs. Phillips was born in Washington County August 25, 1912 to Rev. Louis Wesley Smith and Sarah Elizabeth Walker-Smith. She married Willie Sterling in 1931, a man from a prominent family. To this union five children were born: two girls and three boys. Later she married Eddie Phillips, a hard-working family man, who used his punctuality and friendship to help her reach her goals and aspirations. She remained married to him until his death. They were blessed with two girls and two boys, making a total of nine children.
She United with New Liberty Baptist Church in Boonville at an early age and remained a member until 1941 when she united with Pleasant Grove Missionary Baptist Church in Bryan under the pastorate of the Rev. U.S. Keeling, Sr. and remained a member until her demise. An avid church worker, Mrs. Phillips served on the Pleasant Grove Church Usher Board for 35 years and was a Sunday school teacher and mission teacher. She also taught and counselled numerous youth who remember her wisdom and the effect it had on their lives. She served on various programs and committees at the church and worked tirelessly with church fund drives used to help build the now existing church structure.
At a time when few people had cars, Mrs. Phillips and her husband and children walked to and from church every Sunday morning and again on Sunday evenings because they required all of the household members to attend Sunday School, morning worship service, Baptist Young People's Union (BYPU) and evening worship service. Mrs. Phillips attended school in the Waco and McGregor area and later attended Bryan Public School for Colored. She also attended McKenzie Baldwin Business School along with her daughter. She was a staunch believer in education as attested by the fact that all 9 of her children attended college. Mrs. Phillips was an entrepreneur who took sewing and tailoring classes through the mail and worked many years as a self-employed seamstress. She also bought, repaired, and resold real estate for additional income. Mrs. Phillips successfully owned and operated Phillips Café & Barbecue until her husband's health failed.
She was well respected in her community and was instrumental in getting signatures for a petition requesting that the land which once held Ibarra Mexican School, be used for a neighborhood park. Working through Johnny Lampo, San Jacinto Park on Hwy 21 West was developed.
Mrs. Phillips was a loving and devoted wife, mother, grandmother, great grandmother, and great-great grandmother.
She was preceded in death by her husband, Eddie Phillips; four children, Lorraine Sterling Phillips, Deacon Charles Louis Sterling Sr., James Sterling Sr., and Bobby Joe Phillips; and grandsons, James Sterling Jr., and Ennis Sterling; her father, mother, three sisters and two brothers.
Survivors include three daughters, Willie Mae Sterling Jenkins-Gregg of Bryan, Eddie Mae Phillips Council of Tomball, Lisa Gail Phillips Sanford and husband Reggie of Round Rock; two sons, Leroy Sterling and wife Connie of Temple, and Dr. Calvin Phillips, her son and long-time care giver of Bryan; two daughters-in-law, Emma Sterling of Bryan, and Ruth Sterling of Florida. Also mourning her loss are 24 grandchildren, 43 great-grandchildren, 26 great-great-grandchildren, nieces, nephews, and numerous other relatives and friends.
You may leave condolences and memories for Mrs. Mattie Lee Phillips at www. danielandsonfuneral.com
Betty Robinson
August 28th, 2015