Obituaries
Mrs. Lillie Esther (Smith) Haynes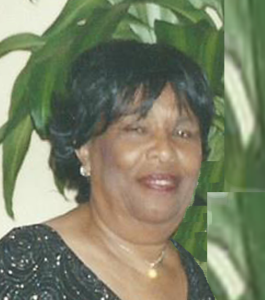 Mrs. Lillie Esther (Smith) Haynes was born on September 12, 1937, the thrid and youngest child, to the parentage of Anthony and Madie Thornton. At an early age, she confessed christ and was baptized at the New Bethlehem Baptist church in the Wilcox Community where her mother was a member under the leadership of Pastor W.W. Ford.
Mrs. Haynes grew up in and remained a life-long resident of Bryan,Tx where she attended public school and graduated from Lincoln High School in 1955. She was a dedicated wife and devoted mother to her husband and children, seven sons and one daughter. Further, she was a member of the Brazos Valley " I have a Dream" garden club.
Mrs. Haynes was preceded in death by her parents as well as a sister Mary Jean Norris.
Annual Family reunions whether in attendance or not, brought her joy each year. The most important principle in life to which she unswervingly adhered and instilled in her children was " Family Unity", because of this, she will be tremendously missed until we all get together on the other side.
She leaves to mourn her death and cherish a lifetime of memories, her husband of 43 years, Tommy L Haynes; children William Smith (Shirley) of Bryan, Tx; Charles Smith of Mckinney, Tx; Robert Smith (Deanna) of Irving, Tx; Bobby Smith (Otherine) of Dallas, Tx; Donna Smith of Mckinney, Tx; Kenneth Smith (Cynthia) of Sachse, Tx; Darron Smith ( Wanda) of Brenham, Tx and Mark Haynes (Charlotte) of Aledo, Tx; sister Maggie Spencer of Allen, Tx; sister in- law Faye Haynes of Dallas, Tx; Margaret Jo Haynes of Jewett, Tx; Minnie Pearl Haynes of Jewett, Tx; Irene Jackson of Dallas, Tx and Lorene Moses ( Cleo) of Dallas, Tx 19 grandchildren, 20 great-grandchildren, and a host of nieces, nephews, cousins and friends.
Vistitation will be held Friday April 21 from 10am-6:30pm with wake service to follow from 7pm – 8pm at Daniel and Son funeral home 401 west 18th st Bryan, Tx 77803
Funeral services will be Saturday April 22 at 11am at Aldersgate United Methodist Church 2201 Earl Rudder Fwy College Station, Tx 77845 with interment to follow at Oakwood Cemetery, Bryan, Tx.
Pastor Douglas G. Hammond of God Praise M.B.C of Dallas, Tx officiating
Pastor Herbert L. Walters Sr., Of Good Faith B.C, Plano, Tx Eulogist 
Betty Robinson
April 19th, 2017