Obituaries
Mrs. Erma Jean Gillespie-Wooley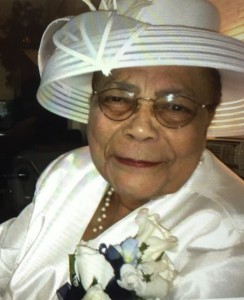 Mrs. Erma Jean (Gillespie) Wooley was born on April 1, 1939, to Mrs. Juanita (Gillespie) Young and Mr. Lonnie B. Johnson.  She grew up in Bryan Texas and attended Bryan Public Schools.  Mrs. Wooley accepted Christ at an early age as one of the first members of Fairview Baptist Church.  After uniting in marriage with Mr. Earthel Wooley Sr. in 1958, she transferred her membership to St James Baptist Church then later transferred to a Church closer to home, St. Paul Missionary Baptist Church.
Mrs. Wooley was an active member of St Paul Missionary Baptist Church where she was the Mother of the Church, President of the Woman's Mission Group, and President of the Church Building Fund.  In her earlier years, she completed a Certification in Cosmetology at Franklin Beauty College in Houston Texas and completed the Texas Child Development Certification Program at McClendon College in Waco Texas.
She was a strong leader and positive advocate for education and always encouraged her children to achieve their goals in life. As a female who was born prior to the Civil Rights Movement and who grew up during the movement, she displayed positive self-confidence and personal independence during those years and throughout her life as well as during recent experiences with health issues.  Mrs. Wooley will continue to be recognized and remembered as a strong, independent lady who showed great love and concern for everyone.
Family members who proceeded her in death are Mr. Earthel Wooley Sr., Mrs. Eleanor Jean Booker, Mr. Daniel Young Sr., Mrs. Juanita Young, and Mr. Lonnie B. Johnson.
Living family members who will cherish her precious memories are children; Ms. Ida Constance Walker, Dr. Sharon Benita Holland and Mr. Raymond Dewayne Holland, Ms. Sheila Elaine Wooley, and Mr. Earthel Wooley Jr.  Mrs. Wooley's cherished memories will be shared by her sisters and brother; Mrs. Rosa Suldon (Lawrence), Mrs. LeNora Reed, Mrs. Alma Green, and Mr. Daniel Young Jr. (Rosalind), nine grandchildren, nine great-grandchildren, and a host of uncles, aunts, nieces, nephews, cousins, and friends.  Mrs. Wooley's family; children, grandchildren, great-grandchildren, sisters, brother, nieces, nephews, mother, fathers, aunts, uncles, and cousins were always her pride and joy.
Betty Robinson
April 4th, 2016