Obituaries
Mrs. Carrie Jane Walker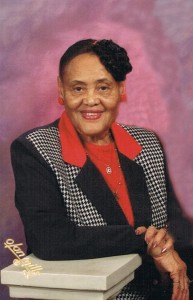 Carrie Jane Walker was born November 21, 1921 to Floyd Brown, Sr.and Annie Hickman Brown in Wheelock, Texas the third of four children.She attended school in Wheelock but graduate from Blackshear High School in Hearne, Texas.She met Earnest Walker in the first grade and they were married in 1941. To this union one son was born.She finished Tyler Barber College in 1943. After working a few years, she built, owned and operated her shop from around 1950 until 2004.She was a very caring,loving, compassionae and charitable women who impacted the lives of many in and around Bryan. She and Earnest informally adopted man foreign students attending A&M during their lifetime.

Preceding her in death were her husband, parents, two brothers Floyd Jr. and Jesse "Bud"; and one sister,Katie Mae, a few nephews and nieces and a multitude of
in-laws.

She leaves to mourn and cherish her memory her son, Jesse Marvin Walker (Beverly); two special daughters,     Birdie Walker–Rodgers, and Karen"Sissy"Gay (James);two stepdaughters, Airlene Hightower and Ruby Jackson; five grandchildren, Jesse, II, Christopher D., and Lisa S. Savage (Roderick), Melvin "Pete" and Tanya Weathers; fourteen great grand children; Seven great – great grandchildren two very special friends, Betty Taylor and Ruby S. Cunningham, too many other friends to name along with a host of nieces and nephews and cousins.

Visitation will be Friday,June 2 from 10am to 7pm in the chapel of Daniel and Son Funeral home located at 401 W 18th street Bryan, Tx 77803

Funeral service will be held June 3, at 11am at Pleasant Grove M.B.C located at 310 W M.L.K st Bryan, Tx 77803 with internment to follow at Oakwood Cemetery in Bryan.
Betty Robinson
June 1st, 2017