Obituaries
Irene Bradley Porter
Irene Brad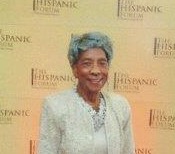 ley Porter was born on October 28, 1937, in Bryan, Texas to Sussic and Naomi Bradley. Irene was the third child of three children. She departed peacefully with her family by her side on April 6, 2016.
Irene accepted Christ at an early age and was a member of Galilee Baptist Church for over seventy years. While she dedicated herself to the Women Mission, she was also faithful to each of her membership organizations. She continued her service after retirement by volunteering with the North Bryan Community Center, Brazos Valley African-American Museum, St. Joseph Hospital, Juneteenth Festival Committee and the VFW # 159 Earl Graham Post American Legion.
Irene attended E. A. Kemp High School and furthered her education and received a Nursing Certificate from Gifford Community College of Greensboro, N. C.
Irene worked at Moore Business Forms and St. Joseph Hospital's laundry department as a lead supervisor with great leadership and enthusiasm for her fellow co-workers.
Irene was preceded in death by her husband, Lamar Porter, both of her parents and one sister, Mae Francis Bradley Wells.
Left to cherish her memory are two daughters, Bonita Newman (Jessie, Jr.) of Crockett, Texas and Mary Thrower (James) of Greensboro, N. C.; one son, Benjamin Franklin White II (Patricia) of College Station, Texas; one sister, Amy Galloway (Benny) of Houston, Texas along with three grandchildren, Jenise Hampton (Kedrick) of Houston, Texas, Jessie L. Newman III of Houston, Texas and Michael L. White of Polk, N. C.; a cherished group of eight great-grandchildren; one aunt, Bessie Hunter (Elee). She also leaves a host of nieces, nephews, cousins and other relatives and friends and a special friend, Helen Washington.
Betty Robinson
April 12th, 2016