Obituaries
Ella Bernice (Poehl) Loehr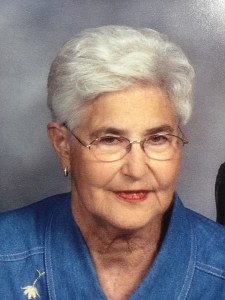 Mrs. Ella Bernice (Loehr) Hronek, 84 of Caldwell, passed away on Thursday, Sept. 17, 2015, in Bryan, at St. Joseph Regional Hospital.
Visitation is scheduled from 5-7:30 p.m. on Monday, Sept. 21, 2015, at Cooks Point United Methodist Church.
Funeral services are scheduled for Tuesday, Sept. 22, 2015, at 10 am at Cooks Point United Methodist Church with Rev. Lightsey officiating.  Burial immediately following, in the church cemetery.Bernice was born to Henry and Ella (Poehl) Loehr.
She grew up in the Cooks Point Community, attended school from grades 1st-8th and graduated Caldwell High School in 1949.
Bernice married A.G. Hronek on Dec. 23, 1950.   She graduated from Durham Business College in Houston and worked for Cravens Dargen Ins. Co. and Humble Oil Company in Houston, before returning to Burleson County in 1963 to help her husband run a dairy farm.
Bernice retired from Texas A&M as an accountant with 30+ years of service.
Bernice enjoyed baking and is known by many for her delicious carrot cakes, cheesecakes and croissants she made for friends and family.
Her other hobbies included traveling, shopping, cake decorating, scrapbooking, growing African violets, roses, and gardening.
Her most favorite pastime was being a grandparent, and the real love of her life is her granddaughter, Brooke.
Bernice is preceded in death by her husband and parents.
Bernice will be lovingly missed by her daughter and son-in-law, Karen and David Dolliver, grandchildren Brooke Dolliver, Kyle and Katie (Fulton) Dolliver; great-grandchildren Reagan and Ryan; very special aunt, Gladys Loehr, and numerous nieces, nephews, cousins and friends.
The family extends a very special thanks and appreciation to the staff, volunteers, nurses, and aids of the Burleson St. Joseph Manor for the fantastic care they provided to Bernice during the past 6 years.  She considered many of them to be part of her extended family.
Betty Robinson
September 19th, 2015