Obituaries
Beatrice Grear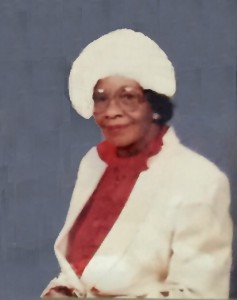 March 22, 1924 – July 27, 2015
Beatrice Inez Jackson Grear took her final breath on July 24, 2015 with her beloved son Lawrence at her side.
Born at 11:00 a.m. on March 22, 1924 in Bryan, Texas (Brazo County), Beatrice was the daughter of Emma Lane Jackson and George Elyard Jackson. Named Beatrice Inez, she was called Bebe. Beatrice was preceded in death by her parents and only sister, Mary Earle Jackson Moore.
Beatrice confessed Christ at age 12 and was baptized in Pleasant Grove Baptist Church, pastored then by Rev. U.S. Keeling Sr. She attended public school in Bryan and was an honor student at EA Kemp High School; graduating in May 1941.
In September 1944, Bebe had a son, Lawrence Everett Haggerty, her only child. February 1947, Bebe and her son moved to San Francisco, California where she immediately found work in private industry. October 1954, the US Post Office employed her where she remained until retirement in 1988.
In California, she was a member of the First Union Baptist Church for five years, pastored by Rev. N. Reason. In 1952, she united with the Third Baptist Church (Pastor Rev. F.D. Haynes Sr.) where she was an usher for many years.
July 1, 1964 she married her childhood sweetheart McClinton (M.C.) Grear, who lovingly called her Bea. They moved from California to Bryan in October 1988. M.C. preceded her in death October 1997. They were happily married for 33 years, three months and four days.
Bea's aim in life was to adhere to Christ's teachings and the Golden Rule. She was a lifetime member of the N.A.A.C.P and gave life memberships to her husband and her son.
She is survived by her son Lawrence, granddaughters Nina and Saundra, great granddaughter Adrienne, great grandsons Dontae and Makyl, step son M.C. Jr. including siblings, nieces & nephews, god daughter Margaret and a host of relatives and friends.
Memorial contributions may be sent to: Pleasant Grove Baptist Church 310 West Martin Luther King Street Bryan, Texas 77803.
Please leave condolences and memories for Beatrice at www.Danielandsonfuneral.com
Betty Robinson
July 30th, 2015