Obituaries
Bailey, Jane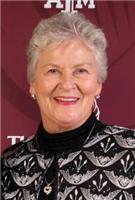 Jane Bailey was born in Greenwood, Mississippi on December 7th, 1936 and died in Iola, Texas October 7, 2013. A Celebration of Life will be held Friday, October 11, from 2 to 6 p.m. at the Daniel & Son Funeral Chapel at 401 West 18th St. in Bryan, Texas.
She graduated from Greenwood High School and attended Mississippi State College for Women and the University of Mississippi. She modeled for the John Robert Powers Agency based in Houston, Texas where she met her husband.
She was married for 42 years to Bryan Keith Bailey who preceded her in death. Keith and Jane were entrepreneurs and lived in Florida and Louisiana before returning to Texas in 1984. They traveled extensively in the U.S. and abroad.
After her husband died, she and her brother moved from Bryan to Iola, Texas in order to have space for all her animals and flowers. Jane was employed in the Memorial Student Center at Texas A&M University from October 1, 1985 until August 31, 2013.She was very fond of her many students, co-workers and numerous others at Texas A&M.
Daniel & Son Funeral Home
October 10th, 2013