Obituaries
Baby Amelia Grace Caldwell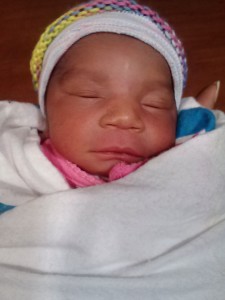 February 15, 2016                                                                 March 18, 2016
Baby Amelia Grace Caldwell, of Rockdale, Texas was born on February 15, 2016, at St. Joseph Regional Health Center in Bryan, Texas.  Visitation will be on Friday, March 18, 2015, at 9:00 am – 4:00 pm at Daniel & Son Funeral Home.  Graveside Service is set for Saturday, March 19, 2016, at 12:00 pm with Pastor John Mitchell officiating, at Davilla Cemetery in Davilla, Texas.
Baby Amelia Grace was born to Jasmine Hopkins and Kevin Caldwell.
She leaves to cherish her memories her parents; her grandparents; Nigel and Latrina Crawford, Kevin & Michelle Caldwell, Dreas Hopkins, and host, of other relatives and friends.
Acknowledgement
The family extends special thanks and appreciation to all family and friends.  Thank you for your support and prayers.
Betty Robinson
March 15th, 2016